Personal Growth & Time To Train Are All Opportunities That Are Available At RVA Surveyors 
At RVA we believe in personal growth, giving our team the time to train and continuously invest in their professional development through working towards qualifications.
We as a company believe in the importance of investing in our employees, we are dedicated to having the best people possible to achieve our aim of helping commercial property owners and occupiers save money on their business rates.
Last year several senior members of our team successfully took part in a Junior Management & Team Leader training course. From this they were able to gain a practical and theoretical understanding of the basics of management & leadership. This included both on-site and external exercises focusing on evolving; individual, team and leadership skill sets. In addition to this, there is on-going development for our existing Surveyors who are undertaking qualifications through the Royal Institute of Chartered Surveyors (RICS) and the Institute of Revenues Ratings & Valuation (IRRV).
More recently, our newest edition to the Marketing department Andrew has successfully completed his first Google Ads Display Certification. This award recognizes his 'mastery of the fundamentals in developing and optimising effective Google display campaigns.' However, this is only the beginning of his progress with several other Google Ads qualifications which he is excited to complete.
Andrew already has several accolades under his belt with a first class honours degree and a masters in digital marketing management from Staffordshire University. He recently relocated from Leicestershire to join the RVA family. In his spare time he plays semi-professional football and is an avid Manchester United fan.
Andrew commented, 'I have only been at RVA for 2 months, moving from the East midlands and coming to Manchester was a big decision, but so far it was certainly the right one. I have been made to feel at home and part of one large team. I look forward to the coming months and further learning.'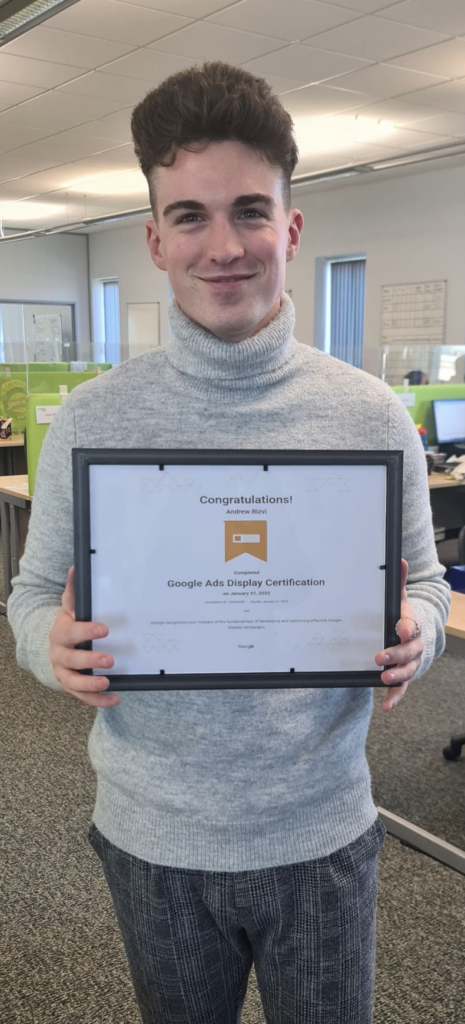 Established in 2008, RVA Surveyors, a business rates Manchester-based company, who employ over 100 people, are one of the fastest growing business rates reduction specialists in the UK. With industry leading success rates they offer a no reduction no fee service.