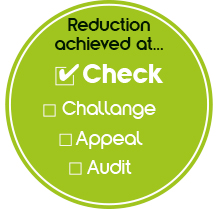 Case study:
Commercial Vehicle Manufacturer | North East
This commercial vehicle manufacturer based in the North East specialises in hand-built, premium quality truck and van bodies.
LAND & PREMISES
PROPERTY TYPE
AUTOMATIVE
MANUFACTURER
INDSUTRY
AUTOMATIVE
MANUFACTURER
INDUSTRY
The Client
The commercial vehicle manufacturer engaged with RVA Surveyors early in 2022. Reassured with our 'no reduction, no fee' guarantee, the commercial vehicle manufacturer was happy to continue with the investigation into a significant reduction in their business rates.
The Solution
One of RVA's surveyors arrived at the property to carry out an on-site inspection. Once there, the surveyor was able to collect the necessary evidence from the property, as well as conduct extensive research into other comparable properties in the area.
During the inspection, it was found that a significant reduction in their business rates liability was possible as the information about the land used for the premises, held by the VOA (Valuation Office Agency), was inaccurate.
The Outcome
With this evidence, RVA Surveyors submitted a Check (the first stage of the Check, Challenge, Appeal, process).
The VOA came back quickly, accepting the information provided in our case. This 6% reduction was therefore backdated to the 1st of April 2017 and would be in place until at least the 31st of March 2023. Affording the commercial vehicle manufacturer the ability to re-invest in the business.
Client Comment
"I found the people very responsive, thorough and detailed. The claim went through with great ease and they were always on hand to answer and explain my queries."
Commercial Vehicle Manufacturer – North East | Land Used for Storage & Premises
March 2, 2023