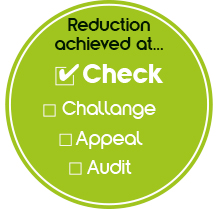 Case study:
Dental Practice | South East
With over ten years' experience, this family-run dental practice is a staple in its community.
BACKDATED
SAVINGS
TO 1ST APRIL 2017
The Client
The dental practice engaged with RVA Surveyors early in 2022. Reassured that we operated on a 'no reduction, no fee' basis, the dental practice was happy to continue with the investigation into a significant reduction in their business rates.
The Solution
A surveyor quickly arrived to carry out an on-site inspection. This allowed them to gather the necessary evidence from the property, as well as conduct extensive research into comparable properties in the area.
During the inspection, the surveyor found that a significant reduction in their business rates liability was possible, as the measurements of the property held by the VOA (Valuation Office Agency) was inaccurate.
The Outcome
With this evidence, RVA Surveyors submitted a Check (the first stage of the Check, Challenge, Appeal, process).
The VOA's initial response was an agreement to the proposed revisions in the case. This 5% reduction meant that the savings were backdated to the 1st of April 2017 and would remain in place until at least the 31st of March 2023.
Client Comment
"RVA Surveyors were very helpful from start to finish. We would never have saved what we have now if it was not for their help. Would 100% recommend to any business."
Dental Practice – South East | Surgery & Premises
March 2, 2023