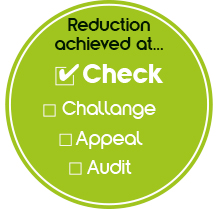 Case study:
Fairy Dreams | South East
Fairy Dreams are an independent business in the South East who prides themselves on their finely crafted wares. This small store is at the heart of its community and is well-known for their attention to detail, and their sunny disposition.
Only 5 weeks
TO COMPLETE CASE
Small store
PROPERTY TYPE
The Challenge for the Client
Fairy Dreams were unaware that they could challenge their business rates, or that an incorrect valuation of the property could even be an issue. After speaking with RVA Surveyors, they decided to engage with a business rates reduction specialist, and were delighted to find that with RVA Surveyors 'no reduction no fee' policy and end-to-end case management handled, that RVA could assess and survey the possibility of a significant reduction for them without it costing out of pocket.
The Solution
One of RVA's expert surveyors quickly arrived on-site to complete an in-depth inspection. After conducting extensive research not only of the property in question, but also of similar properties in the area, the surveyor used this research to analyse if the property's Rateable Value (RV) could be eligible for a reduction. Due to the unique shape of the property, the surveyor re-drew the floor plans for as much accuracy as possible.
The surveyor quickly found in building the case, that the details of the property held by the Valuation Office Agency (VOA) were out-of-date and therefore had been inaccurate for several years.
The Outcome
With this information, RVA Surveyors were then able to launch a Check (the first step of the government's Check, Challenge, Appeal, process) on Fairy Dreams' behalf.
Just four days after the Check was submitted, the VOA replied, agreeing with RVA Surveyors proposed Check. This resulted in a significant reduction in the property's RV from £13,500 to £12,500. This meant that the arts and crafts store's savings were backdated from 1st April 2017 (the beginning of the Rating List) and would be in effect until at least 31st March 2023 (the end of the current Rating List).
Client Comments and Recommendation
"The whole process was easy for us with their service being incredibly professional, from their lovely friendly surveyor, the smooth non-intrusive inspection to the communication throughout."
Fairy Dreams – South East | Small Store
June 10, 2022