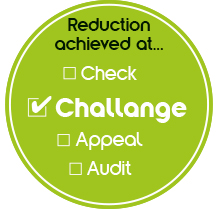 Case study:
Fort Stamford Health and Fitness | South West
Fort Stamford is not just a Health and Fitness club. They like to push themselves beyond for their customers; including other state of the art amenities such as a hairdresser, fully equipped gym, beauty salon, sauna, pristine tennis courts, swimming pool, and much more. It was this go-getter attitude that had them reaching out to RVA.
1st April 2017
BACKDATED SAVINGS
Leisure & hospitality
SECTOR
The Challenge for the Client
Fort Stamford took possession of the property before the current rating list (i.e. before 1st April 2017); since then, they believe that the Rateable Value (RV) of the property increased excessively when compared to similar properties in the area. As such, they decided to reach out to a business rates reduction specialist. Reassured with RVA Surveyors service operating on a 'no reduction, no fee' basis and their proven history of achieving significant reductions, they chose to engage with RVA to investigate their business rates.
The Solution
RVA dispatched a surveyor promptly to carry out an on-site inspection allowing them to gather the necessary evidence from the property, as well as conduct extensive research into comparable properties in the area. When building the case, the surveyor found that while a number of factors were correct, there were several discrepancies throughout the property.
During the inspection, it was uncovered that a significant reduction in their business rates liability was possible for Fort Stamford, as the squash courts had not been included by the VOA as a part of the main space of the property – which would have afforded them a lower value.
The Outcome
With this evidence, RVA Surveyors submitted a Check (the first stage of the Check, Challenge, Appeal, process).
The VOA came back quickly with their initial response, which was a rejection of the proposed reduction. However, RVA Surveyors disagreed with this decision, and so launched a Challenge. After some deliberation, the VOA agreed with the original proposed revisions to the RV; reducing it from £40,750 to £36,750. This 10% reduction in the RV meant that Fort Stamford Health and Fitness Club had a total savings of over £8000 (backdated to 1st April 2017, and remaining in place until at least 31st 2023).
Client Comments and Recommendation
"I was very happy with the service provided. The surveyor wanted to know all about the facilities we offer, the competition we face and researched the RV of competitors to successfully argue our case and achieve a reduction of our rates and retrospective rebate."
Fort Stamford – South West | Leisure & Hospitality
June 10, 2022