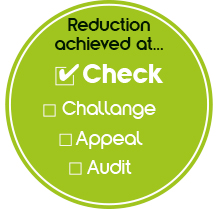 Case study:
Hair Salon | Hertfordshire | South England
This small, local hair salon is well-known for its fresh outlook on delivering the best looks and service they can to their clientele.
Backdated
savings
TO 1ST APRIL 2017
The Challenge for the Client
After speaking with RVA Surveyors, the salon decided to engage with our specialist reduction services. Reassured with our 'no reduction, no fee' guarantee, they were pleased to go ahead with the investigation into their business rates liability.
The Solution
A surveyor visited the property to gather the necessary evidence. During the on-site inspection, they also collected data from comparable properties in the area to strengthen the case.
The surveyor found that the measurements held by the VOA (Valuation Office Agency) were out-of-date, which would lead to a significant reduction.
The Outcome
With this evidence, RVA Surveyors submitted a Check (the first stage of the Check, Challenge, Appeal, process).
The VOA came back quickly, accepting the case provided by RVA. This 7% reduction meant that the salon received savings that were backdated to the 1st of April 2017 and would be in place until at least until at least the 31st of March 2023.
Client Comments and Recommendation
"Great service. Everything handled easily and professionally. Everyone was very friendly and informed. Thanks!"
Hair Salon – Hertfordshire | Retail
February 20, 2023