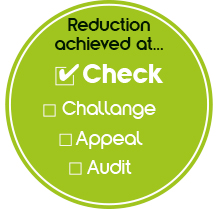 Case study:
Herts Cars Radlett | London region
Herts Cars Radlett has provided reliable taxi services in the North West region of London for over ten years. With their offices based in Radlett, this central location allows them to be as efficient as possible when meeting their customer's needs.
1st April 2017
BACKDATED SAVINGS
Office building
PROPERTY TYPE
The Challenge for the Client
Before speaking with RVA Surveyors, Herts Cars Radlett were not aware that a reduction in business rates were possible or that they could be overrated. Assured by RVA's 'no reduction, no fee' policy and their 85% success rate, they were happy to engage.
The Solution
One of RVA's expert surveyors were quick to arrive at the property. The detailed inspection performed by the surveyor not only involved re-drawn floor-plans, but extensive research and analysis into the property in question, as well as similar properties in the area.
While building this case, the surveyor found that the information held by the Valuation Office Agency (VOA) was inaccurate, as it had incorrectly valued the parking space at the property.
The Outcome
As such, RVA went ahead and submitted a Check (the first step of the Check, Challenge, Appeal, process).The VOA responded quickly, and positively. They agreed with RVA's proposed revisions to the client's Rateable Value (RV), resulting in a 14% reduction. This meant that Herts Cars Radlett saw a total saving of over £10,000 (backdated to 1st April 2017, and in effect until at least 31st March 2023). This significant reduction has allowed the client to heavily invest and develop their business further.
Client Comments and Recommendation
"Got us a rebate that was backdated for quite a while where other reduction companies had failed."
Herts Cars Radlett – London | Office
June 10, 2022