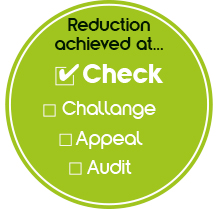 Case study:
Italian Restaurant | Greater London
This local restaurant prides itself on serving classic Italian dishes; allowing diners to enjoy good food as they sit on the sea-view terrace.
BACKDATED
SAVINGS
TO 1ST APRIL 2017
The Client
After speaking with RVA Surveyors, the agency chose to engage with our specialist reduction service and were delighted to find that with our 85% success rate at Check, Challenge, Appeal (CCA), that we could assess the possibility of a significant reduction for them without it costing out of pocket.
The Solution
One of RVA's surveyors swiftly arrived on-site to complete in-depth research by surveying the property in question, as well as investigating the Rateable Value's (RV) of similar properties in the area.
The surveyor quickly found in building the case, that the details of the property held by the Valuation Office Agency (VOA) were inaccurate, and that a lower area of the property could in fact be re-valued at a lower rate.
The Outcome
RVA Surveyors were therefore able to launch a Check (the first step of the government's Check, Challenge, Appeal, process) on behalf of the restaurant.
Shortly after the Check was submitted, the VOA replied, agreeing with RVA Surveyors proposed revisions. This resulted in a significant reduction to the property's RV from £31,250 to £27,750. The 11% reduction was therefore backdated to the 1st of April 2017 (the beginning of the rating list) and will continue until at least the 31st of March 2023 (the end of the current rating list).
Surveyor Comment
"It seemed like a fairly standard layout, but when researching the existing plans for the property, it was clear that some of the internal area had been valued incorrectly. This allowed us to be able to achieve a business rates reduction for the business.
With the VOA's agreement, we achieved a £3,500 reduction which was backdated to the beginning of the rating list (1st April 2023), and is in place until the 31st March 2023."
Italian Restaurant – London | Leisure & Hospitality
February 23, 2023