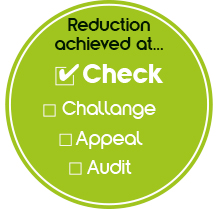 Case study:
Law Firm | Greater London
This law firm in Greater London is committed to providing expert service in several areas of practice – all of which are led by experienced lawyers.
BACKDATED
SAVINGS
TO 1ST APRIL 2017
The Client
In 2022, a well-known law firm in London chose to engage with RVA Surveyors to investigate a reduction in their business rates. By engaging with our specialist business rates reduction services, the law firm were able to secure their savings with our 85% success rate at Check, Challenge, Appeal (CCA – the Valuation Office Agency's (VOA) process).
The Solution
RVA swiftly sent out a surveyor to visit the property. The on-site inspection allows the surveyor to collect the necessary evidence, as well as look into other comparable properties in the area.
In doing this in-depth research, the surveyor discovered that several areas of the business had been incorrectly valued, which would lead to a significant reduction.
The Outcome
RVA Surveyors promptly submitted a Check (the first stage of the CCA process).
The VOA's initial response agreed with the information in the case, and the Rateable Value (RV) of the property was therefore reduced. This 10% reduction meant that the law firm were able to re-invest their backdated savings into the business.
Client Comment
"We are pleased to have our business rates reduced, and the service provided was brilliant."
Law Firm – London | Office
February 23, 2023