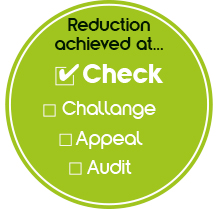 Case study:
Manufacturing Company | London
This manufacturing company based in Greater London has over three decades of experience and are committed to driving up industry standards – both with their own line of products and in the wider construction and manufacturing industries.
PRODUCTION &
CONSTRUCTION
INDUSTRY
The Client
They decided to appoint RVA Surveyors to investigate a significant reduction in their business rates. Reassured by our 'no reduction, no fee' guarantee, the manufacturing company were pleased to secure their savings.
The Solution
Once appointed, RVA promptly dispatched a surveyor to the premises to complete an on-site inspection; allowing them to gather the necessary evidence from the property, as well as carry out extensive research into comparable properties in the area. It became clear to the surveyor that the information held by the Valuation Office Agency (VOA) was inaccurate.
The VOA held had noted that the property in question had heating throughout – including wall and roof insulation. However, during their inspection, the surveyor found that when drawing up their own comparable floor plans, the property only had partial heating.

The Outcome
With this evidence, RVA Surveyors submitted a Check (the first stage of the Check, Challenge, Appeal, process) asking the property to be valued based on only having partial heating, not full heating.
Shortly after the Check was lodged, the VOA came back agreeing with RVA Surveyors proposed revisions. This meant that the company received a reduction of over 10%. It also meant that the company received total savings of approximately £7,000.
Client Comment
"Good service provided overall – would definitely recommend RVA if you are paying large amounts for your rates."
Manufacturing Company – London | Factory & Premises
March 2, 2023