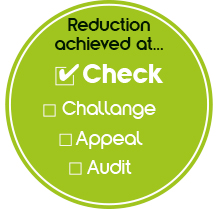 Case study:
Pet Centre | South Yorkshire
This pet centre focuses on using hydrotherapy to help dogs during their rehabilitation. Vet recommended, the centre prides itself on a first-class service.
BACKDATED
SAVINGS
TO 1ST APRIL 2017
The Client
After speaking with RVA Surveyors, the pet centre decided to engage with our specialist reduction service. With our 85% success rate at CCA (the Check, Challenge, Appeal, process) the pet centre was happy to engage with RVA to investigate the possibility of a significant reduction in their business rates.
The Solution
A surveyor was quickly sent out to complete an on-site inspection. This allowed them to gather the necessary evidence from the property, as well as perform extensive research into other comparable properties in the area.
During the inspection, it was discovered that a significant reduction in their business rates liability was possible as the information held by the VOA (Valuation Office Agency) was found to be inaccurate and therefore out-of-date.
The Outcome
With this evidence, RVA Surveyors submitted a Check (the first stage of the Check, Challenge, Appeal, process).
The VOA came back quickly, accepting the proposed reduction on the evidence submitted. This 7% reduction meant that the RV (Rateable Value) went from £14,250 to £13,250 in backdated (to the 1st of April 2017) and forward savings (until at least the 31st of March 2023).
Client Comment
I was contacted by RVA to try to reduce my business rates and the process has been relatively simple and smooth with a small reduction achieved – bonus.
Pet Centre – South Yorkshire | Workshop Office & Premises
March 2, 2023