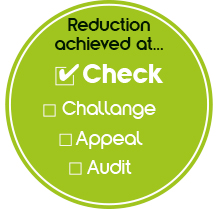 Case study:
Stationery Supplier | North West
With their showroom based in the northwest, this stationery supplier provides personalised and high-end stationery to a wide range of clients across the UK, as well as the rest of the globe.
BACKDATED
SAVINGS
TO 1ST APRIL 2017
The Client
After speaking with RVA Surveyors, the stationery supplier decided to pursue further if a significant reduction could be achieved for their showroom. Reassured by our 'no reduction, no fee' guarantee, they chose to engage with us to investigate their business rates.
The Solution
A surveyor visited the property to gather the necessary evidence. During the on-site inspection, they also collected data from comparable properties in the area to strengthen the case.
While building the case, the surveyor found that while several facts were correct, there were inconsistencies in the measurements of the property and were therefore substantially inaccurate.
The Outcome
With this evidence, RVA Surveyors submitted a Check (the first stage of the Check, Challenge, Appeal, process).
The VOA came back quickly with their initial response, where they accepted the case in full. Which meant that the RV was reduced by 19% overall.
Client Comment
"Very easy company to deal with."
Stationery Supplier – North West | Warehouse & Premises
March 2, 2023