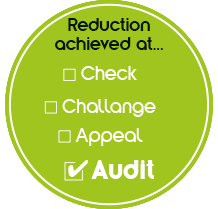 Case study:
Vehicle Repair Specialists | South West
This South West, family-owned business has been a part of their community for years, working on all aspects of vehicle body repairs – including maintenance and repair.
REBATE OF
OVER £2,000
FOR 2019/2020 RETAIL RELIEF
The Client
The vehicle repair specialists decided to engage with a business rates reduction specialist in December 2021. Reassured with RVA Surveyors on a 'no reduction, no fee' guarantee and a proven history of achieving significant reductions, they chose to engage with us to investigate their business rates.
The Solution
RVA assigned a surveyor to carry out an on-site inspection: allowing them to gather the necessary evidence from the property itself, as well as complete extensive research into comparable properties in the area.
While the surveyor was not able to identify a potential reduction in the Rateable Value (RV), they turned the case over to our audit team to conduct a forensic review.
The Outcome
With this forensic review of the client's business rates complete, our audit team found that the vehicle repair specialists were eligible for retail relief but had not had it applied to their account.
Our audit team arranged with the local billing authority to have the relief applied to the vehicle repair specialist's account. This resulted in a rebate of over £2000 rebate for 2019/2020.
Client Comment
"Very, very happy with what the company has done for me. Very pleased with the outcome."
Vehicle Repair Specialists – South West | Workshop & Premises
March 2, 2023