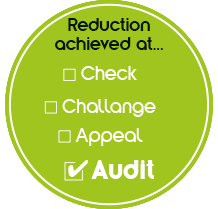 Case study:
White Star Running | South West
While it started out as simply a social group, White Star Running took the group's passion for running and began to organise races and events across the South West of England. Taking account all levels of abilities, their aim is to remind people why they love to run – whether it is five miles or a marathon.
£10,000
BACKDATED SAVINGS
Sports Club
PROPERTY TYPE
The Challenge for the Client
Organisers at White Star Running were unaware however that they could challenge their business rates, and after speaking with RVA Surveyors in 2019, decided to engage with the company further to see what could be done. As RVA is a business rates reduction specialist, the client was comforted by the knowledge that an expert would be able to navigate the process for them.
The Solution
One of RVA's expert surveyors arrived shortly at the property to conduct an on-site inspection. The surveyor's research took them to photographing the property, as well as looking further into the rental information of similar properties in the area for comparable evidence to analyse. After the case was built, the surveyor found that there were no grounds to proceed through the Check, Challenge, Appeal (CCA) process, however that it was potentially eligible for our Audit division. This is when our specialist audit team perform a forensic review of the client's account to identify if any relief-based reductions are possible.
The Outcome
With this forensic review of the client's business rates completed, RVA was able to identify that the client had unknowingly not been in receipt of Retail Relief in the 2019/2020 year. As such, they were able to apply the relief thereby reducing the businesses Rateable Value (RV) by 33%. These savings were backdated to the beginning of 2019.
Client Comments and Recommendation
"The surveyor was really professional and friendly and the communication was clear and concise. The current valuation system doesn't take into consideration all factors when valuing a business."
White Star Running – South West | Sports Club
June 10, 2022