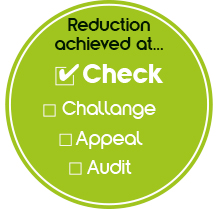 Case study:
The Worktop Specialists | Yorkshire and the Humber
With a combined experienced of over 25 years, not only do these worktop specialists manufacture and install bespoke worktops for your kitchens, but also bathrooms, and fireplaces.
BASED IN
YORKSHIRE AND THE HUMBER
The Client
The worktop specialists chose to engage with a business rates reduction specialist and were delighted to find that RVA Surveyors works on a 'no reduction, no fee' guarantee.
The Solution
RVA quickly sent out a surveyor to the property in question – which was in fact two properties, unit 2 and unit 2a. They examined information collected from the property, as well as completed research into comparable properties in the area.
The surveyor quickly found that two the separate units were assessed independently, not as one business, and that merging the two units would allow for a reduction in their business rates liability.
The Outcome
RVA launched a Check (the first step of the government's Check, Challenge, Appeal, process).
The VOA (Valuation Office Agency) replied quickly and agreed with the proposed revision. By seeing this as one unit, instead of two, it brought the overall cost per square metre down. Resulting in a 10% reducing in the Rateable Value (RV); bringing it down from £22,250 to £20,000.
Surveyor Comment
"What was interesting about this property was that the occupier had received two separate rates bills. As it was a fairly large warehouse, the VOA had it registered as two separate units. Our research quickly found this was not the case.
Submitting new floorplans got the VOA to agree to a 10% reduction which will be in place until at least the end of the rating list on the 31st of March 2023, and was backdated to the 1st of April 2017."
Worktop Specialists – Yorkshire and the Humber | Warehouse & Premises
November 23, 2022